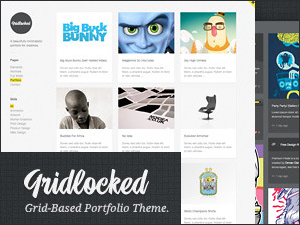 A magazine-style theme for WordPress featuring a light, easy on the eyes, brownish color scheme packed ready with the all-new WordPress 3.0 features. Might be just what you needed to style your new website or give your everyday blog a new look! The theme comes with several features to help make your website pretty, supports several plugins and still is user-ready and runs right out of the box. Has features included like custom header, custom background, social bookmarking, author highlighting and much more. So why not give it a try and see yourself what this theme has to offer? Or read further to get more details on the theme's features.
Click on any of the sections below to get additional information:
Here's a full view of the theme: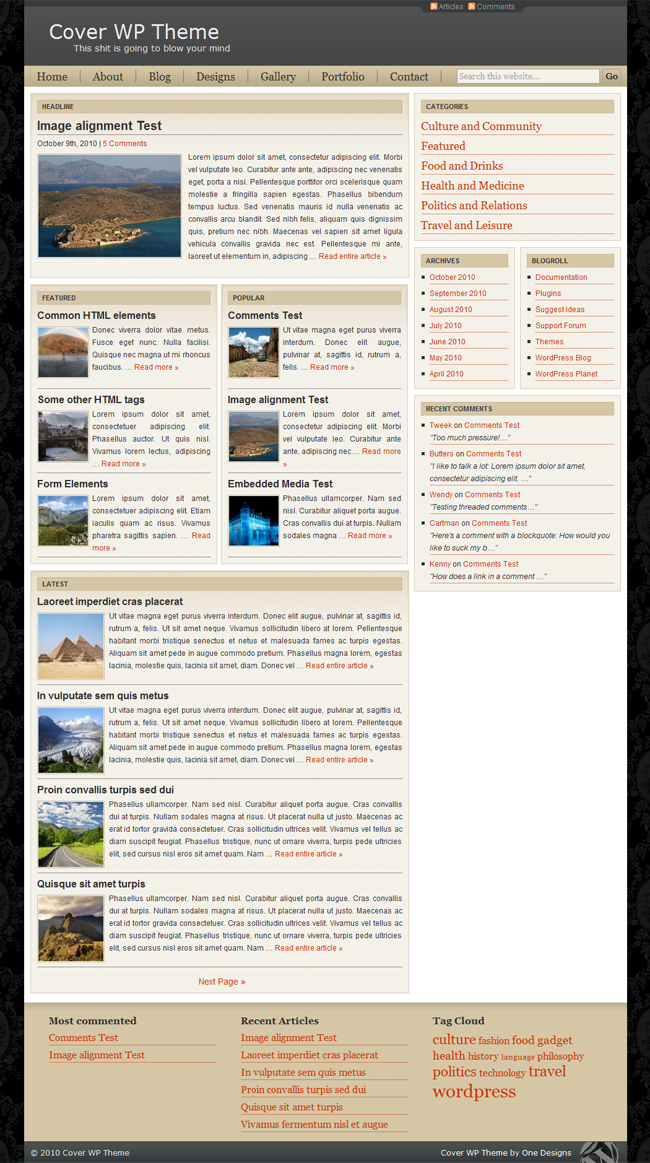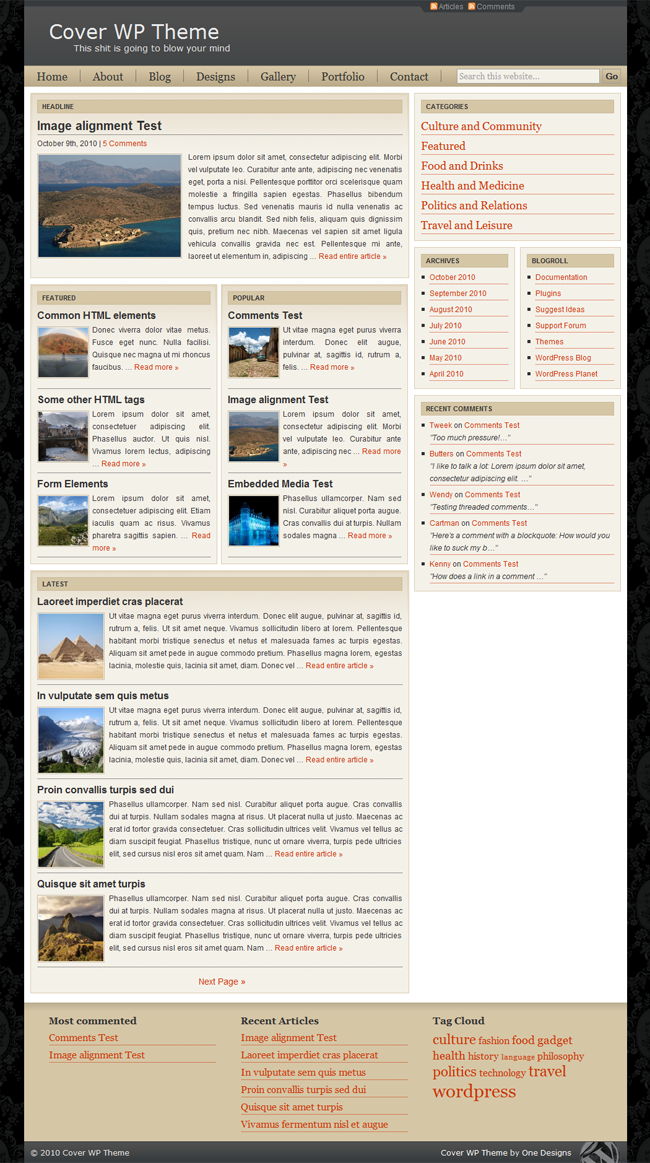 Features
Here's a list of the features this theme comes with. More information about each feature is presented below:
Custom Menus
Custom Background
Custom Header
Post Thumbnails
Featured & Popular Posts
Author Highlighting
Social Bookmarking
Widget-ready Sidebar and Footer
Threaded Comments
Drop-down Menus
Localized for English, German and Romanian
And now let's see what all this means for you:
Custom Menus


The all-new WordPress 3.0 Menu system. A way to add any links you want to the main menu of your website. This means you are no longer stuck with only showing a page list or a category list and hack into the code to add and exclude pages. Just log-in to the admin section and add any links you want, including external links. If you choose not to use custom menus the navigation section will fall back to the old plain list of pages.
Custom Background


This is such an easy one I don't get it why it isn't included by default and a theme must support it. However, this allows you to change the main background of the website to whatever you want. Just upload an image from your computer and set it as your website's background. Do me a favor with this one: Please, don't take the web back to Geocities. 🙂
Custom Header


Set your own header image. This may help you to add a logo to the page or just add a bit of your own color. Although this was available for some time now, in WordPress 3.0 it has been further improved in that it allows you now to choose from a predefined set of backgrounds, so now you have a gallery of header images to choose from. Currently the theme comes with an alternative header image besides the default one, that shows a WordPress logo in the header, to show 'em some love. More to come in the near future.
Post Thumbnails


A nice featured image to display right next to the posts on the home page. This adds a bit of elegance to the website, as you may show only the excerpt of the post to give the page a consistent look and still show an image to represent it and catch more of the readers' interest. The new WordPress thumbnail system is supported and if you use a version prior to 2.9 there still is a way to show a thumbnail with the timthumb script. If no thumbnail is declared the first image in the post will be scaled to size and shown as a thumbnail.
Featured & Popular Posts


This is what gives the theme the magazine-style look. Sometimes some old quality posts just get lost in the archive and you may want to show them on the front page somehow. For this create a category called Featured and add these posts to it. The first 3 will be shown on the front page. Of course, your 3 most debated posts will also show on the front page under the Popular section.
Author Highlighting


If you want to show some information about yourself or have guest authors writing for you and want to give them credit, just add some biographical info to the profile and it will appear at the and of every post written by him. Can also show a link to the author's website and Twitter account.
Social Bookmarking


Sharing your work with your friends or posting to social bookmarking websites is made easier. Buttons allowing you to share your content through the most popular social media and bookmarking websites are displayed at the end of every post. Sharing your content with the world is just one click away.
Widget-ready Sidebar and Footer


The right sidebar brings you 4 widgetable areas of different widths, allowing you to easily organize links, display additional information and advertisments. The footer also allows you to display widgets instead of the default content and a 468×60 widget can also be displayed in the header section.
Localized and Translation-ready


If you want to display content on your website in a different language, the default statements in English can be translated by using the translation catalog that comes with the theme. For the moment the theme comes already translated in German and Romanian.
How to get this up and running
Basically, if you activate the theme it should work from the beginning without additional tweaks. If you want to take advantage of the built-in features, read below:
To add a thumbnail to a post, in the editor click on the "Add Featured Image" link in the lower right-hand corner under the post tags.
To show featured posts, create a category called Featured and add posts to that category. The first 3 will appear under the Featured section.
If you want to bring modifications to the theme's stylesheet but still want to keep it updated, create a file called mystyle.css in the theme's directory, any style declared in that file will override the default ones.
To avoid a long front page, set the posts per page setting between 4 and 6.
If you don't like the magazine-styled layout and prefer the classic posts-list view, delete the file home.php from the installation directory.
Theme Support
For any support questions please use the dedicated section at the forum. Make sure to read the FAQ first and search for an existing request to your problem to see if it hasn't already been resolved. If your problem is new, you can create a new topic where you can describe it and I or another user will get back to you as soon as possible. User registration is required to create a now topic or post on the forum. Please do not use the comment section on this page for support questions. The comment section is only for feedback on the theme or this article. You will see that the forum is a much better experience.
That should about wrap it up. You're ready to go, happy blogging!
The theme is released under GPL. Feel free to use, modify and redistribute it however you like.