Advertisment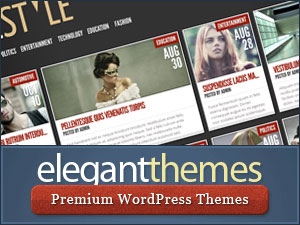 We are proud to present our latest free WordPress theme: Esplanade. A modern and stylish theme featuring a responsive layout with a slick and streamlined design but powered by a powerful code base and a flexible options page offering lots of featured and control. Esplanade is an advanced and highly flexible WordPress theme. You will find options that allow you to customize the layout, design elements, color schemes and typography along with traditional WordPress functionality like custom menus and post thumbnails. How good does that sound? If this is the theme you've been looking for keep reading to find out all the amazing things it has to offer. You can download the theme below or see it live in action:
Click on any of the sections below to get additional information:
Here's a full view of the theme's home page in Grid View, including the Featured Post Slider: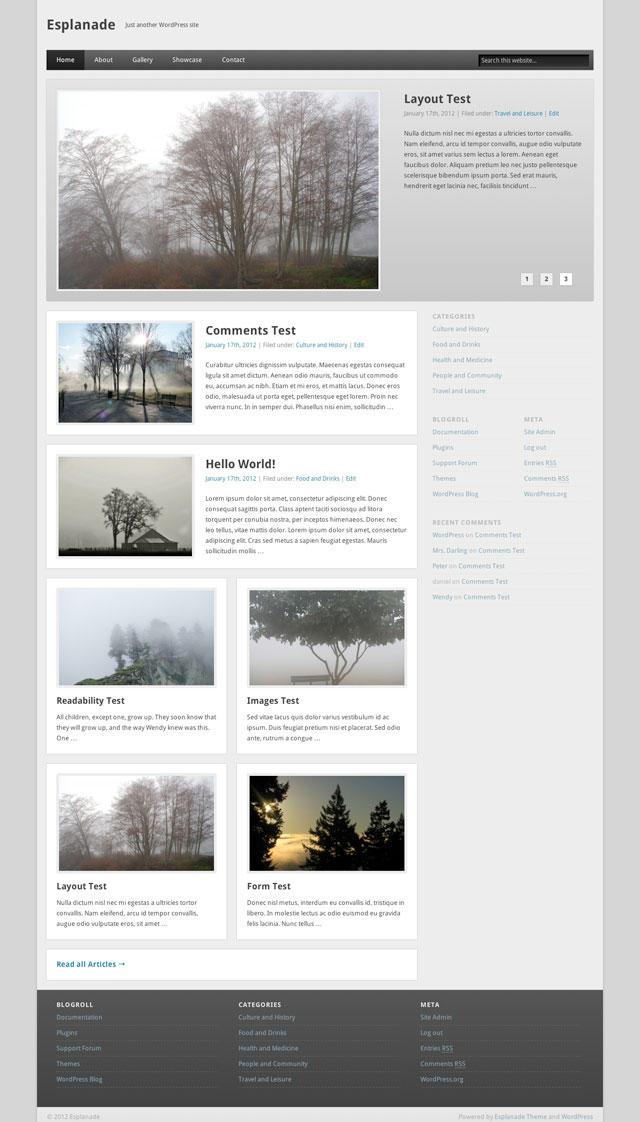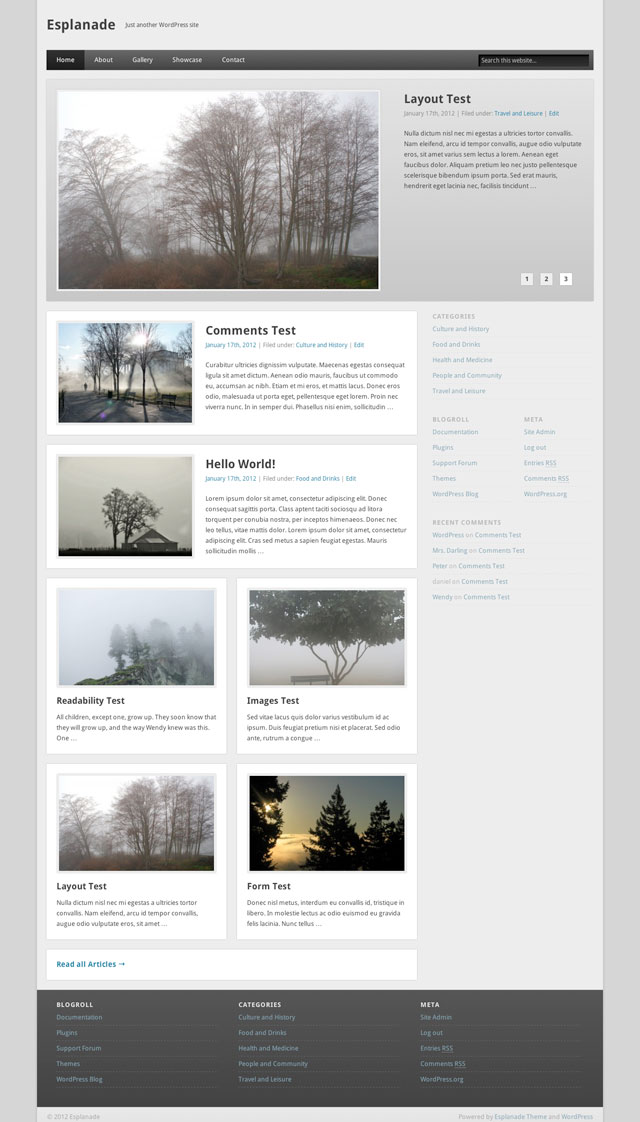 The initial intention for this theme was to be the second iteration of Cover WP which was 3 years old and already past its time. However, after consulting with existing users of the theme we have decided it shifted too much from the original and deserved to have its own place as a stand-alone theme. As a consequence to this the theme Cover WP will be discontinued and no longer updated with Esplanade continuing its development cycle. Security updates may still be offered for Cover WP. If you are an existing user of Cover WP and thinking about upgrading to the new theme, see below what new features Esplanade has to offer. You may see some things like the Featured and Popular section are gone and replaced by the Featured Post Slider and the magazine-style home page has been replaced with a grid view. The home page has also been rethought to offer a more natural flow to the list of articles. Read more below to see what this theme has to offer:
Features
This theme comes feature-packed with things you usually see in premium themes, so don't get shocked. Here's a list of everything it has to offer:
Blog View & Grid View
Responsive Layout
Post Thumbnails
Post Formats
Audio & Video playback
One-click enabling and disabling of website sections
Multiple layout options and custom page templates
Drag-and-drop editing of layout dimensions
Choose from multiple color schemes
Custom fonts and advanced typography options
SEO-ready and options that give you control over code semantics
Clean, organized and documented code
We hope this feature pack is enough to satisfy most bloggers' and small website owners' needs. Let's get into some descriptions and see how each feature could benefit you:
Blog View and Grid View
This feature is still experimental and currently available only for the home page. Basically, blog view follows the traditional flow of posts while the grid view uses a powerful grid to display the content, offering the ability to showcase almost every type of content from simple text to rich photo galleries, podcasts and videos. In the future we plan to improve this view mode and make it flexible enough to fit the entire structure of the theme.
Responsive Layout
The Layout of this theme automatically adapts to fit all devices that can browse the internet like tablets and smartphones. The design will automatically shrink to the width of the device and content blocks will automatically stack, making all content visible and accessible without any zooming or horizontal scrolling. Similar to a mobile version only that it naturally adapts to screen dimensions without the interference of third-party scripts thus maximizing compatibility. Here's a screenshot of the theme on an iPhone, click on the image to see a live demo of the theme on various mobile resolutions: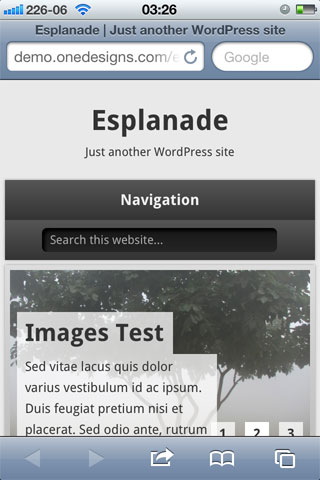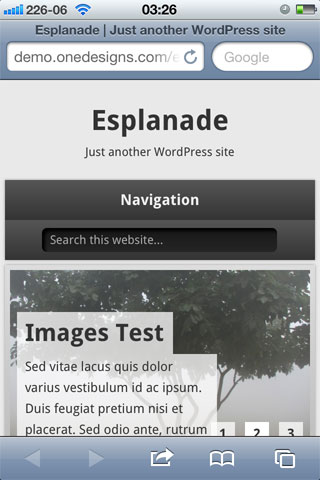 Audio & Video playback
The theme features native HTML5 audio & video playback. Simply attach a video or audio file to a post, set it the video or audio post format and a browser-native player will start playing the file. If html5 is not supported by the browser it will fall back to a flash player.
One-click enabling and disabling of website sections
Sections that are not essential for the website, like breadcrumbs or the post slider can be disabled with one click from the options page. They will simply disappear and the design will automatically adapt to fit the changes.
Multiple Layout Options and Custom Page Templates
The theme comes with built-in with templates for the most popular page layouts, like sidebars on the left or on the right or splitting content with 2 sidebars. They can be individually chosen for pages and globally integrate with the entire layout. The default website layout can be changed in the theme options page.
Drag-and-drop editing of Layout Dimensions
The dimensions of the sidebars and content areas can be modified from the options page with a tool that allows dragging and dropping of the content separator. The dimensions are given in percentages to comply with the responsive layout. Here's a screenshot of the layout editing utility: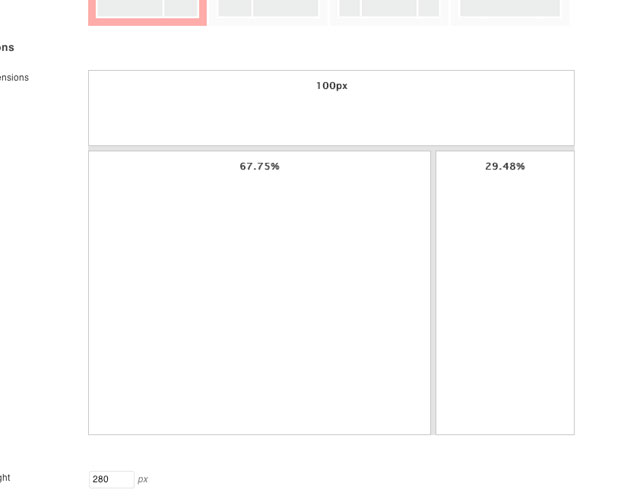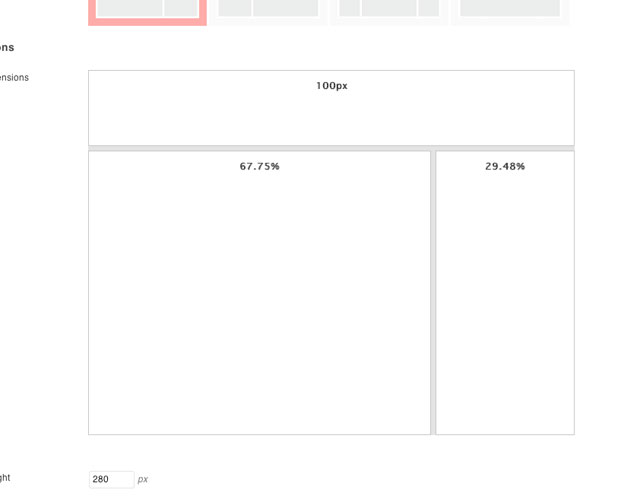 Choose from multiple Color Schemes
The theme comes with 4 color schemes you can choose from: Neutral, Sand, Nature and Earth. You can change them in theme options. The difference between them is subtle but offers a shade of personality to color-lovers. Here's a screenshot of the option highlighting the 4 color schemes:


Custom fonts and advanced typography options
The themes offers the ability to choose which fonts you would like to use and integrates itself with the Google Web Fonts Directory to allow even more fonts to be used. For the moment only some fonts are supported. The theme also offers the option to change font properties like font size, line height and color. If you're not familiar with CSS color codes a point-and-click tool can help you choose your preferred color.
Instructions
Featured Post Slider
The slider handles sticky posts as featured. If the slider option is enabled
sticky posts will be displayed in the slider and the main loop will ignore them.
If the option is disabled the loop will display normally, with sticky posts on top.
Grid and Blog View
The theme comes with 2 view modes: Grid and Blog.
The Grid mode is similar to a web magazine and shown only on the front page.
Secondary pages display in blog view.
You can override this behavior in theme options.
Post Thumbnail Functionality
Post Thumbnails appear only in post lists, not on single posts.
They can be set by choosing "Set as Featured Image" when uploading an image.
Image Post Format
Posts with the image format will display the last attached image in a caption.
If a post thumbnail is set, this one will appear instead.
Gallery Post Format
Posts with the gallery format will display the first 6 attached images, on 3 columns,
and also offers a lightbox for full screen preview.
On single pages images from the gallery shortcode display in a lightbox.
Audio & Video Post Formats
Posts with the audio & video post format will display the attached media files
in a HTML5
Other Post Formats
Posts with the aside, status & quote post formats will displayed with no title;
the status post format will display the user's avatar, in a mannersimilar to Twitter;
the quote post format will only display the post's first <blockquote> tag.
Posts with the link post format will link out to the first tag in the post.
Widgets Areas
The Theme has 4 customizable sidebars, a widget area in the footer and one on the 404 page.
You can use these area to customize the content of your website.
If no content is be added to the sidebars these will not display.
Support
For any support questions please use the dedicated section at the forum.
The theme is released under GPL. Feel free and encouraged to use, modify and redistribute it however you like.
That's it from our part and we'd love to hear your feedback! Use the comment section below to share us your thoughts and if you like this theme let your friends know about it by sharing it with the services below. Happy blogging!