Advertisment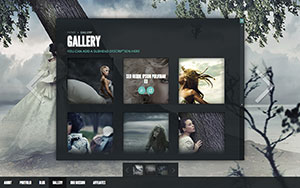 Today we present you with our latest theme release, what we hope to be the best release so far. A stylish and modern minimalist theme with a beautiful image gallery slider and an optional blog view. With support for post formats, audio and video playback, ideal for showcasing photography portfolios or podcasting but also great for your everyday blogging.
The theme comes with two view modes: a gallery view for photoblogging and the classical blog view. Supports post thumbnails, the all-new WordPress 3.1 post formats and takes them a step further by offering audio & video playback. You can download the theme below, view a demo or read further about the theme's features.
Click on any of the sections below to get additional information:
Here's a full view of the theme in Gallery View: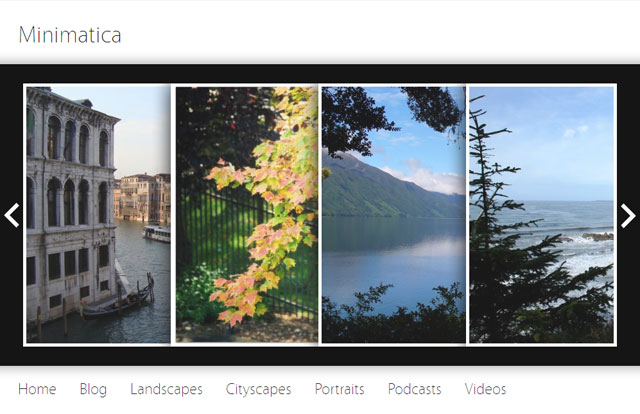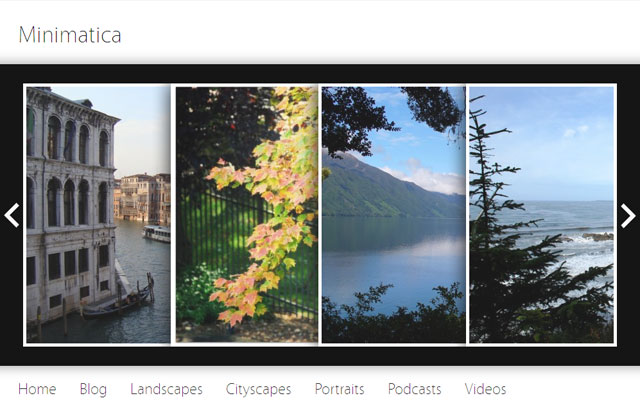 And in blog view: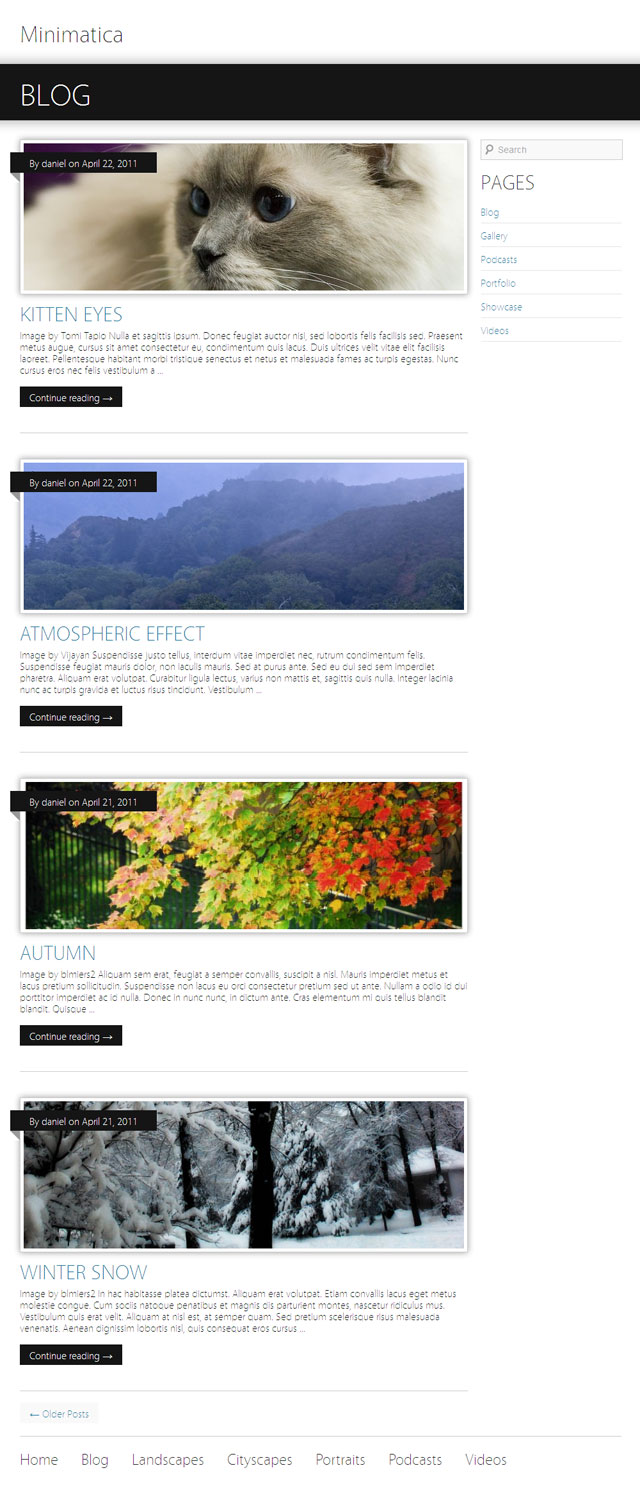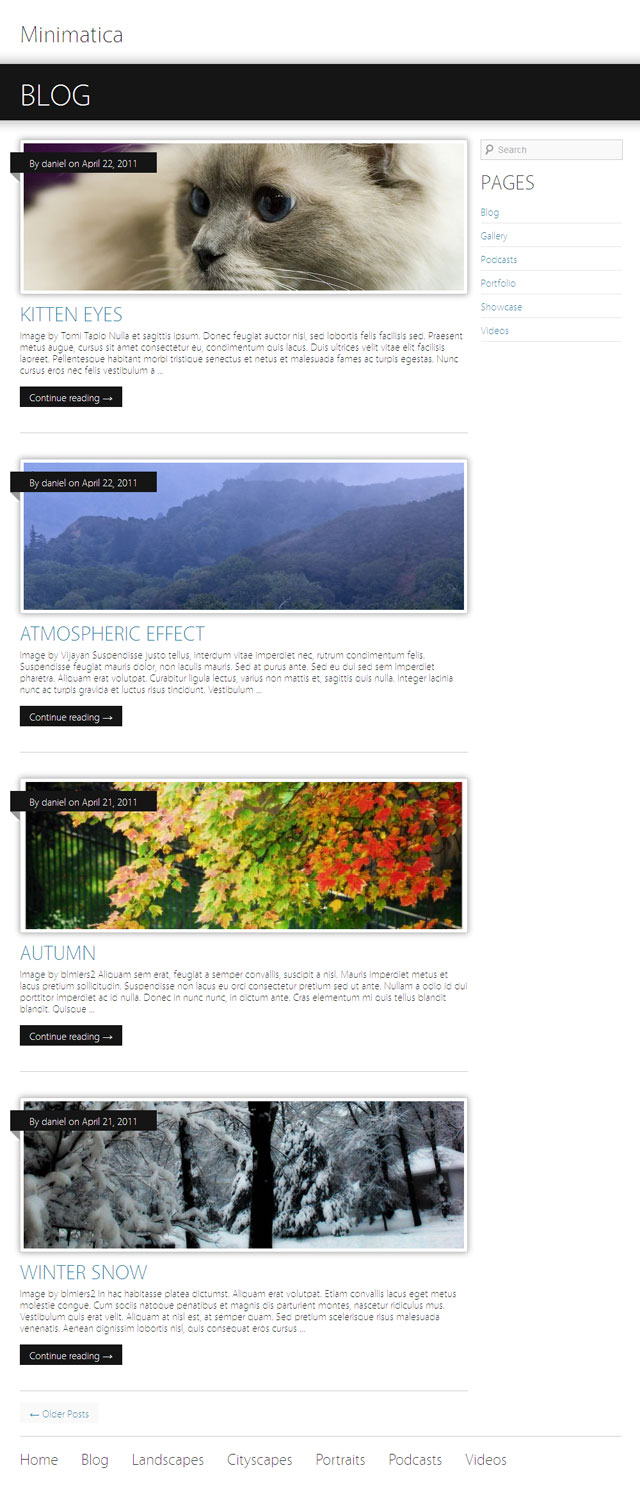 Features
Here's a list of the features this theme comes with. More information about each feature is presented below:
Gallery & Blog View
Post Thumbnails
Post Formats
Audio & Video playback
Clean, organized & documented code (yes, it's a feature :))
How let's get down to the details:
Gallery and Blog view
The theme is intended to be used for photoblogging, travel blogs, professional photography portfolios but also podcasting and conventional blogging. That's why this theme came up with 2 views and the ability to change them. You can select which section is viewed in which mode and if you would like the default category view to be gallery, you can select one category to be styled as blog.
Post Thumbnails
The theme uses the theme post thumbnail feature to turn each post into a photography showcase. The gallery slider uses post thumbnails to display the image galleries and a featured image can be set for each post. This is useful even if you are not a photographer and have for example a travel blog.
Post Formats
The Theme Supports the WordPress 3.1 post formats image, gallery, audio, video, aside & link. Posts with these formats automatically detect attached media and present it to the viewer in a special format. You can read more about how post formats are handled in the instructions.
Audio & Video Playback


Introducing HTML5 audio and video playback! Taking advantage of the newest emerging web technology, this theme presents you with native audio and video playback and a fallback option for Flash Player if the browser does not support the HTML5 audio and video tags.
Additional Features
We have taken special care when creating this theme to follow all WordPress quality and security guidelines but without cutting on innovation and creativity, to give you a state of the art product. The theme's code is clean and documented and the theme is designed in such manner that child themes can be easily built upon it. All theme functions are pluggable and can be overriden by child themes and the theme takes advantage of filters and hooks to ensure great flexibility.
Instructions
Post Thumbnail Functionality
By default, Post Thumbnails will appear when posts are being viewed in gallery mode, in blog mode and also in single posts. Post Thumbnails will not work for pages
Image Post Format
Posts with the image format will display the last attached image on top of the post. The last attached image should not appear in the post content to avoid duplicate display.
Gallery Post Format
Posts with the gallery format will display a gallery of attached images, on 3 columns, and also offers a lightbox for full screen preview. Posts with the gallery format should not use the [ gallery ] shortcode to avoid duplicate display.
Audio & Video Post Formats
Posts with the audio & video post format will display the attached media files in a HTML5 <audio> tag with flash fallback. If more than one media file is attached to the post, then these will be used as fallback sources.
Aside & Link Post Formats
Posts with the aside & link post formats will be displayed as normal posts, but can be shown in the Ephemera widget in the sidebar.
Widgets
The Theme includes a custom Widget, Ephemera, that can be used to display a list of the aside & link posts. The widget was copied from the Duster Theme.
Support
For any support questions please use the dedicated section at the forum.
That's it, happy blogging!
The theme is released under GPL. Feel free and encouraged to use, modify and redistribute it however you like.